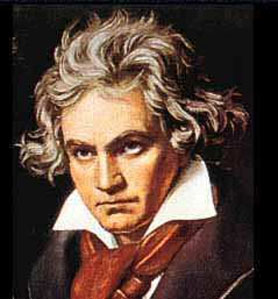 Ludwig van Beethoven's final and most famous symphony was his "Ninth Symphony".  Through the ages, his masterpiece has been widely considered the most exciting and impacting piece in all of classical music.  Yet, Beethoven himself never heard it.  At the time he composed his Ninth Symphony, he was completely deaf.
On the opening night of his symphony's performance, Beethoven sat on stage facing the orchestra, for though he could not hear, he could feel the musical vibrations through the floor.  The performance stunned the audience as the masses erupted in a standing ovation at the symphony's conclusion.  Noticing that Beethoven could not see the crowd's response from his seat, his colleagues picked him up and turned him to face the roars of the audience.  Though he heard nothing, he saw the resounding impact of what he had created.
All Beethoven knew in his later years was silence.  He also understood that a symphony's power comes not just from the notes of the music, but from the space between the notes.  The silent pauses.  Written into the music preceding the crescendo is a brief moment of silence – as if to prepare the audience for the crescendo to come.  In the silence you hear, "Here comes the moment you've been waiting for!"
Throughout the Bible, God is silent.  He was silent when Joseph was thrown into an Egyptian prison, when David was hunted by Saul, and when Christ was hanging on the Cross.  In those moments, God did not bring justice.  He did not step in to 'save the day'.  He was silent.  But the symphony was not over.  Suddenly God shows up unexpectedly.  Joseph is put in charge of the land of Egypt, David becomes king of Israel, and Christ is raised from the dead.  We discover that while God was silent, he was actually preparing to make his power known in an unmistaken way.
"When God is silent, he is not still." – Jeff Henderson
Rarely am I completely confident I'm where God wants me, doing what He's called me to do.  He seems to inform me on a "need-to-know" basis only.  Yet I find that the act of seeking him somehow positions me for the day when clarity finally comes.  I must remember that God's silence does not mean the song is over; rather, his silence is preparation for what lies ahead.
May we recognize that the silence between the crescendos in life is what makes the music so spectacular.  May we use those silent moments to rest and prepare for the grand crescendos to come.  And in the silence may we hear, "Here comes the moment you've been waiting for!"
"Humble yourselves, therefore, under God's mighty hand, that he may lift you up in due time." – Peter (I Peter 5:6)
"Be still, and know that I am God; I will be exalted among the nations, I will be exalted in the earth." – (Psalm 46:10)