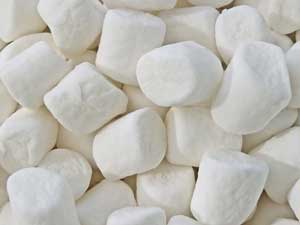 "The best things come to those who wait." – Heinz Ketchup Slogan
In the 1960's, psychologist Walter Mischel conducted an experiment on a preschool classroom.  He handed each of the 4-year-olds a marshmallow and gave them a choice: "You can eat the marshmallow now, but if you wait 30 minutes I will give you a second marshmallow when I return."  Part of the class couldn't bear the wait and immediately ate their marshmallow.  The other part painfully waited the 30 minutes; they closed their eyes, tried to focus on something else, or tried to go to sleep to pass the time, and were rewarded with the second marshmallow when the experimenter returned.
Researchers tracked these children over a 20-year period and measured them for psychological differences between those who had eaten the single marshmallow immediately and those who had waited for the second.  They discovered that the children who waited as 4-year-olds grew up to be more assertive, dependable, adventurous, and socially competent than their peers.  They also had higher SAT scores.  The preschoolers who had eaten the marshmallow immediately were more likely to be lonely, indecisive, easily frustrated and stubborn.
This study was repeated many times with similar results.  It suggests that the ability to delay gratification carries long-term reward.
The waiters know the discipline of resisting convenience now for a greater reward later: they have learned to resist buying on credit, bending the rules, or giving up on unanswered prayers, knowing that one day their waiting will be rewarded.
I pray for the same patience to wait for the fullness of God's blessings.  May we refuse to cut-short his blessings by short-cutting the wait.  May we have the patience to wait for the second marshmallow to come.
"The LORD longs to be gracious to you; he rises to show you compassion. For the LORD is a God of justice. Blessed are all who wait for him!" – Isaiah
(Isaiah 30:18)