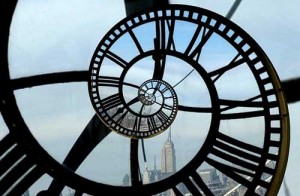 If I want to be successful…
To be successful at work…
Ernst & Young taught me that I should work just half a day… 12 hours.
I should devote 1 hour a day to staying current on world events and financial markets.
I should maintain the speed limit on the road, stretching my average drive time to and from the office, meetings, and gym to 3 hours a day.
To be successful with my health…
Health magazines say I need 8 hours of sleep a night.
Thomas Jefferson said you should devote 2 hours a day to physically strenuous activities.
My back doctors tell me I should spend 1 hour a day stretching.
Health books tell me to each day drink a gallon of water, eat 1 gram of protein per pound of body weight, eat 6 small well-balanced meals, including 8 servings of fresh fruits and vegetables, and avoid microwaves, processed foods, trans fats, and high fructose corn syrup. (2 hours)
To be successful personally…
I should devote 3 hours a day to personal hygiene, getting ready in the morning, running errands after work, doing house chores, and "unwinding" in the evening with a favorite TV show.
My high school English teacher told me I should read for 1 hour before bedtime.
To be successful relationally…
I should devote an average of 3 hours per day maintaining friend and family relationships and being involved in social groups to grow, serve and influence others
I should devote 1 hour in the morning focused on my relationship with God, reading the Bible, praying, and getting mentally and spiritually ready for the day.
How much time does it take in a day to do everything I should do to be successful?  Roughly 37 hours.
I cannot do it all… but I try.  In the fear of missing out on something good, I pack my schedule tight with all good things, but find I'm too busy to enjoy any of it.  In my attempt to squeeze all the "marrow" out of life, I squeeze all the "margin" out of life instead.
24 hours a day is all we get.  And only God knows the number of our days (Job 14:5).  Why not surrender our days to the Creator of time and the only one who knows how much time we have left?  May we remember that all that's required is only what God has called us to do in the limited time we have.  May we pray for the wisdom to know what is truly most important and not allow the secondary to interfere.    Then will we be truly "successful".
"Teach us to number our days aright, that we may gain a heart of wisdom." Psalm 90:12